Grandfather rights:- Motorcycle, Scooter and Moped.
Ride a moped on a car licence
100+mpg, cheap insurance and tax, faster journey times and fewer hold ups. This sound appealing to many car drivers.
If you have category p (lowercase p) on the pink plastic card part of your UK driving licence, and passed your car test prior to 1st February 2001 (known as grandfather rights) then you can ride a moped on the roads. With a full car driving licence you know the roads, but do you know how to correctly control a moped, or how to use it on the roads ?
If you passed your car test after 1st February 2001 you will need to complete a CBT (Compulsory Basic Training) course to ride a moped on the roads See the FAQ section on this page.
Introduction to Biking +
To maximise the benefits and safety of moped riding on a full UK car licence, 90-ONE education are pleased to offer a course tailored to you. This is an extension to the "Introduction to Biking" course, where you master controlling a moped. We then talk through basic maintenance, and safety and legal requirements. Finally you will spend some time on a moped on the roads with a qualified instructor, to cover the basics of observations, position, junctions, and roundabouts. This is no substitute for the full CBT course, but it will give you the control, confidence and the very basics to ride a moped on grandfather rights of your full UK car licence (category p)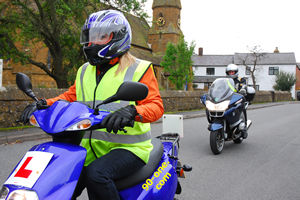 For the introduction to bikes +, we supply an automatic moped scooter (twist and go), helmet, gloves, a qualified instructor, and the session is conducted on a DVSA approved off highway training site in Northampton, Coventry or Milton Keynes. The road riding is conducted on the roads local to each training site. If you are going to ride a gear / manual moped or a semi-automatic moped, we can also supply gearbox training at the motorcycle training site.
Enquire about an Introduction to Biking +

Grandfather rights. Frequently asked Questions
Q
What is a moped
A
A 2-wheeled vehicle with a maximum design speed of over 45km/h but not more than 50km/h. If itís powered by an internal combustion engine its engine size must not be more than 50cc. The vehicle can be an automatic (twist and go scooter), semi-automatic or manual.
Q
I passed my car test before 2001 do I need to do the CBT course
A
If you have a full car licence obtained before 1st Feb 2001 you have a full category p (moped) on your licence. You would therefore not require a CBT (DL196) certificate to ride a moped. This course is specifically designed for you.

If you have a full car licence obtained after 1st Feb 2001 you also have a full category p, however your licence will show code 122 next to the category. This means a CBT must be completed before a moped can be ridden.

CBT certificates have a lifespan of 2 years, however if used for mopeds by a holder of a full car licence the CBT certificate does not expire & can be used for life.

So in either case you would not have to retake your CBT if you want to ride a moped.

If you want to ride anything bigger than a moped then a new CBT certificate will be required.
Q
Can I ride a 125 cc or 250 cc motorcycle on grandfather rights.
A
No. Category p on your full UK car driving licence limits you to a moped. You can ride up to 125cc motorcycle (geared or twist and go automatic scooter) with a valid CBT certificate as a provisional motorcycle rider (L-plates front and rear)
Q
I did a CBT several years ago, can I still ride my 125cc motorcycle or scooter.
A
Yes if you have taken and passed your full motorcycle test for category A1, A2 or A OR your CBT certificate is still valid. It will be valid for 2 years from completing your CBT course.
Q
I used to ride a 250cc motorcycle as a learner in the early eighties, can I still ride a 250cc or 125cc motorcycle with L-Plates.
A
You can ride up to 125cc with a valid CBT certificate. (or a full motorcycle licence category A) A 250cc motorcycle will required a full motorcycle licence.
Up to February 1983 learner motorcycle riders could ride motorcycles with an engine capacity up to 250cc. In February 1983 the law changed limiting learner motorcycle riders to 125cc. In December 1990, the law was changed again, requiring motorcycle riders to complete a basic training course (CBT) which substantially reduce the number of learner motorcyclists being killed and seriously injured. The CBT certificate is valid for 2 years from completion of the course.
Q
Can I make my moped go faster, remove the restrictor (de-restrict it) or put a big bore kit on it.
A
Yes you can, but it would no longer be a moped, it would be a motorcycle. In this case, you could only use it on the roads with a valid CBT certificate or full motorcycle licence. Note it may be difficult to insure a modified moped.
Q
I recently updated my full car driving licence (after January 19th 2013) It now has category A on the front of the pink card. Can I now ride a motorbike / is this a full motorbike licence
A
If you did not have full motorcycle entitlement on your licence before it was updated then no. The category A was placed on full car licences from 19th January 2013. If you check the back of the pink card you will probably have a restriction to the category A of "TRI". This linits you to driving a tricycle under the category A. To gain a full motorcycle licence you will need to pass your full motorcycle test.
If you have a question which has not been answered above, please feel free to contact us
For more information on the driving licence categories, see the government web site